In my quest to find a new everyday carry (EDC) tool, I searched around. I came upon one where the price was just too good: the under $5 (at time of this article (EDIT: 15 Sept 2019 It is now just a bit over $5 at $5.50)) Gerber Shard. It seemed much simpler than my constant go-to EDC tool of the Leatherman Micra but also much lighter, and claimed to be TSA compliant for airline travel. My Micra is known to be TSA troublesome, and I've often left the Micra at home rather than risk forgetting to pack it and losing it to the TSA. So something simple and, frankly, inexpensive enough that if it was confiscated it wouldn't be a financial hit was a bit plus.
Gerber Shard: The Details
The Gerber Shard comes tucked in a small poly bag in a very small box with only a multi-language warning sheet. Removed from the package, the Shard weighs a very light 20 g (0.6 oz). It has an odd shape, measuring about 7.2 cm long by about 2.5 cm wide at its widest points (2 13/16 in x 1 in).  It features two (2) flat-blade screwdriver bits that combined form a pry-bar; the "V" between them is sharpened to act as a simple wire-stripper. It also features a #1 Philips-head screwdriver bit that has a fairly fine point and a bottle-opener. A large round hole for key-ring mounting ends the list.
The Materials:
Made of an unknown grade of stainless steel, the Shard comes with a titanium nitride coating for corrosion resistance.  It comes in multiple colors; I purchased the Silver to match keys on my keyring (stealth).

Quick Test: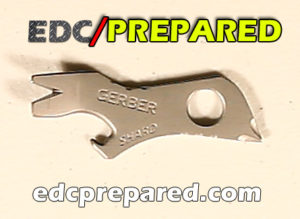 I performed a quick test in my unboxing video with a screw, staples, and a few nails. The #1 Philips-head worked great in the drywall screw with a good feel, and I was able to remove the screw from a pine 1×2 board and drive it back it. I don't think it would have been very comfortable driving the screw into an unpiloted hole.  I had issues with the pry-bar on small-headed brads. The limited "throw" of the pry-bar made it useless on a 1.5″ nail that was drivin into the board only half way; the head was beyond the arc of the pry-bar.  It did work for several staples in the board, both fully-driven and partially driven, and therefore is at least somewhat functional.
I did not try the wire-stripper or the bottle opener.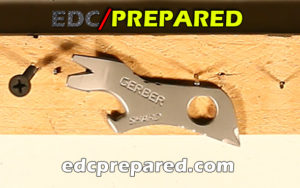 Initial Thoughts:
My initial thoughts on the Gerber Shard are that the screwdrivers and the bottle opener will be fine. I expected limited usefulness on the pry-bar and the wire-stripper.  I will be carrying it for several weeks and will include a follow-up in Part 2.
Take a look at our other reviews, including the Lifeline 30-Piece First Aid Kit.
---
Interested in the Gerber Shard and want to support EDC/Prepared? If you purchase through my links above, I earn from Amazon Associates. Thanks for your support!
View our Privacy Policy here.